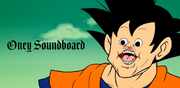 Oney Soundboard is an Android application made by natinusala (some samples were grabbed by Gunrec). It is a simple soundboard with a lot of sounds from OneyNG's videos, and some are from Leo & Satan serie.
You can download it from this link (Google Play Store, free).
Videos list
Edit
Here is a list of all the videos contained in the 1.7 version of the application (there is 177 sounds) :
Wingardium Leviosa
Wingardium Leviosa 2
Hellbenders : Applooza
A Hellbenders Christmas
Thor & Loki
Ice Cream
OneyNG stuff (like don't forget to subscribe)
Dragonball Pee Pee
Leo & Satan

Algebra Aversion
Pancake Doomsday
Leo goes to school
Ad blocker interference detected!
Wikia is a free-to-use site that makes money from advertising. We have a modified experience for viewers using ad blockers

Wikia is not accessible if you've made further modifications. Remove the custom ad blocker rule(s) and the page will load as expected.